The combination of Covid-19 and the war in Ukraine, together with a lack of materials and breakdown in logistics and labour shortages, which prevail across manufacturing, construction and logistics, pose longer-term challenges.
The disruptions have revealed the shortcomings of a system that impacts everything from computer chips to paper.
"The shocks and triggers from Brexit, Covid-19 right through to the war in Ukraine have shown how finely balanced the international supply chain is," said Stephen Carr, commercial director at Peel Ports.
"There's a myriad of issues that have come together where no model and no system can meet and so what we all have to do collectively is seriously readdress the whole system, and it has got to come back to the owners of the cargo who are interested in the end-to-end journey."
Carr was speaking at a recent event hosted by TheBusinessDesk.com in partnership with law firm Freeths exploring the supply chain disruption, the impact it has had on North West businesses and what to expect in the coming year.
In attendance were also: Tristan Duncan, director and specialist in dispute resolution,  Freeths; Miles Hacking, managing sssociate and insolvency practitioner, Freeths; Steve Mulcahy, CEO, Contact Group; Matt Jarratt, assistant director of operations, Procure Plus; Michelle Laithwaite, founder, Fuel Hub; Max Sheridan, managing director, Algeos; Sean Keyes, managing director, Sutcliffe; Mark Williams, senior partner relationship manager, WorldFirst; and David Bloomfield, supply chain director at Ultimate Products.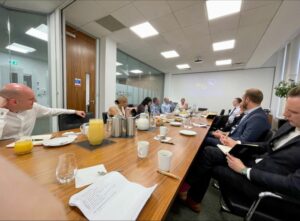 Carr said he's experienced "exaggerated peaks and troughs" throughout the past two years.
"For example, we had a ship turn up with 5,000 containers on it and we were only expecting 500. Suddenly that's sat there for an extra two days because we need people to process it.
"We've equally seen companies that have switched out of container ships back into bulk shipping which was the traditional model especially for the lower value bulkier products.
"And so, one of the things that we have done is to multi skill as many of our workforce as we can, so that we can be more able to respond to some of those changing trends."
Looking ahead, he said the two biggest challenges that needed to be addressed were wage inflation and rising energy costs.
"What happens to energy costs during the winter and if they continue going up coupled with high wage pressures, then we might not be through the worst of it yet," he warned.
Max Sheridan, managing director at Algeos, a leading manufacturer and distributor of materials, technology, and consumables to the podiatry, physiotherapy, orthopaedic, and footwear markets said the effects of Covid-19, Brexit and disruptions in supply chains 'created a challenging two years.'
"It's the sheer cost of raw material that has gone up and trying to get hold of raw materials in the last 18 months that has been a challenge for everyone," he said.
"Container prices have gone from $2K to $18K to $20K a container and that is having an impact on our margins and that's on top of rising energy costs and inflation.
"So, what we are trying to do is look at how we can manufacture more in the UK, we're investing in equipment and building that into our business here. But the challenge around that is skills, there's a labour shortage so now we are looking at how do we recruit in the local market and provide the opportunities young people want as well as then retaining that talent."
Sean Keyes, managing director at Sutcliffe, a civil and structural engineering firm with offices in Liverpool, Manchester, North Wales and London, also agreed that labour shortage was having a huge impact as a lack of staff has been slowing down or preventing companies producing and delivering goods and services causing disruptive knock-on effects further down the supply chain.
"Our non-UK workforce has been shrinking since Brexit, and it has been a challenge to get local staff who want to work in this industry.
"One of the other impacts that our industry is having is the sourcing and purchasing of raw materials.
"The heavy steel works for Europe and large parts of the world comes from a factory in Donbas, Ukraine. We can't get that now and it's having an impact on our industry. So, when we talk about inflation, we need to look at what's happening globally."
He added: "Another real issue in our industry is that contractors are working on 2-3% margins, if you're experiencing 10-11% inflation it doesn't work, they're being squeezed if the cost of the job goes up.
"We are experiencing lots of good North West contractors with a turnover of less than £100m who are failing as a direct result of inflationary pressures in the industry."
Mark Williams, senior partner relationship manager, World First, an international payments business working with small businesses around the world, also noted rising inflationary costs as being the number one 'single biggest issue' its clients have been concerned about over the last six months.
"When you think about the international supply chain and the soaring commodity prices, it's a double whammy," he said.
"Frankly across most industries, businesses just can't swallow those increases. I don't think the challenges are from the pandemic hangover and ongoing supply issues and there's no short-term fix, but I do think that as a result of everything we are looking at a fairly deep recession that will hit a number of businesses hard."
Michelle Laithwaite, founder of Fuel Hub, a fast-growing eco-friendly online meal prep business founded in 2019, says the company was 'a winner' in the pandemic as people switched to buying online.
However, as the business scales keeping up with costs will be a challenge.
"We struggled to get sustainable packaging as it comes from Belgium, we struggled with stock because all of a sudden there was panic buying over essentials such as rice and pasta during the pandemic," said Laithwaite.
"We had to really think on our feet so that we could still make deliveries and not compromise on the quality of our products and our whole ethos on sustainability.
"Now, like everyone else, we are dealing with rising food costs. A chicken breast used to cost us 97p, now its £1.50. And that rise is in the past three months.
"A lot of poultry comes from Ukraine and Poland, so getting supply is going to be challenge for many.
"We can't get any fixed pricing with our suppliers either. We are a scaling business, and we are moving to larger premises so the fit-out prices we are getting are for 7 days only after which the costs might go up by 10%.
"As a growing business we are having to keep a very close eye on everything."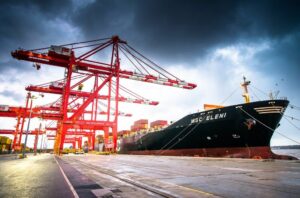 Tristan Duncan, director and specialist in dispute resolution at Freeths, noted that many clients were also frustrated with similar challenges, but he advised that having a clear understanding of the terms underpinning each stage of the supply chain is an important part of understanding the risk profile.
He advised that in the context of dispute resolutions businesses should adopt a collaborative approach because litigation is currently not the way forward.
"The biggest concern area for us have been the court system, which is hugely understaffed and in disarray, so everything is taking much longer.
"So, my advice to businesses would be to team up with like-minded businesses and try persuade third parties to work with you rather than against you."
He added: "People are looking at their contacts more closely and realising that the clauses don't make sense and they're now considering negotiating their contracts. Many have always perceived the big players might not be willing to negotiate, but the way the market is working now, if you have a good relationship with your supplier or customer, there is an opportunity to have a conversation and try to de-risk and to make it fair.
"So do check your contracts, and if you're about to enter a new one with a new customer or supplier don't be frightened of having a conversation with them."
Picking up on contracts Matt Jarratt, assistant director of operations at Procure Plus, a not-for-profit company that specialises in the procurement of goods and services related to both new-build and to the repair and maintenance of a wide range of social housing requirements, said in recent months he's seen no fault termination clauses used a few times.
"It's about having a pragmatic approach to say if we can build a mechanism that works for all parties and if someone's there to manage it and to make sure it doesn't get out of hand, that's the way that we need to work going forward because it will flex about and it will go back down."
One of the positive trends that have emerged in the past year is the investment in digital transformation which has accelerated due to the pandemic and as a result, will have the most potential to transform supply chains.
David Bloomfield, supply chain director at Ultimate Products, which sells consumer goods products including Salter and Russell Hobbs to over 300 retailers across 38 countries said the company has continued to invest in automation to help drive efficiencies within the business and manage disruption further down the supply chain.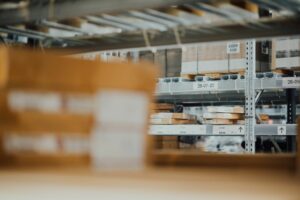 Bloomfield said: "We have continued to develop our systems and processes with a focus on driving productivity through use of automation.
"This includes investment in robotics across the entire business to automate hundreds of tasks.
"We've pushed ahead with the investment because it's the right thing to do for the business. Not only are we more efficient for it, but our talented team can focus on areas of the business that we want to grow and we're not heavily reliant on people when there's a huge labour shortage."
For Steve Mulcahy, CEO at Contact Group, a leading flexo platemaker for the UK and European corrugated, flexible packaging and labels market, investment in tech and machines, collaboration, and being transparent where possible has been key to navigating the supply chain challenges.
"We have tried to utilise technology to give all our customers and suppliers transparency where we can. At midnight everyday all our major suppliers get a print of all the materials we have used that day so managing stock levels has become easier.
"We have increased stock levels in the chain as well and invested in machines. In previous recessions, the companies that came out of it stronger were the ones that have invested in technologies and have also considered the sustainability aspect of it too, an area of the business we are doing more, and I can see it's where many businesses are making huge investment in too."