We were delighted to welcome Alex Burghart the Minister for Skills to The Cube, our construction training academy on Friday 10th December, located in north Manchester.
Working in partnership with North West Skills Academy we're delivering a Retrofit Skills Bootcamp which will see 150+ gaining secure and sustainable employment between now and Sept 2022.
The Cube has been in operation now since 2018 and has been instrumental in training over 2000 candidates to be work ready for entry level roles in the construction industry. From there PP has continued to offer support so they can continue to upskill as their career path develops.
Minister for Skills Alex Burghart said:
"It was a pleasure to meet local businesses and people benefitting from Procure Plus and North West Skills Academy's Retrofit Skills Bootcamp in Manchester. I was extremely impressed by the work they are doing. Skills Bootcamps offer adults a clear path to a better job, giving people the opportunity to build up sector-specific skills, including green skills, and a fast-track to an interview with a local employer."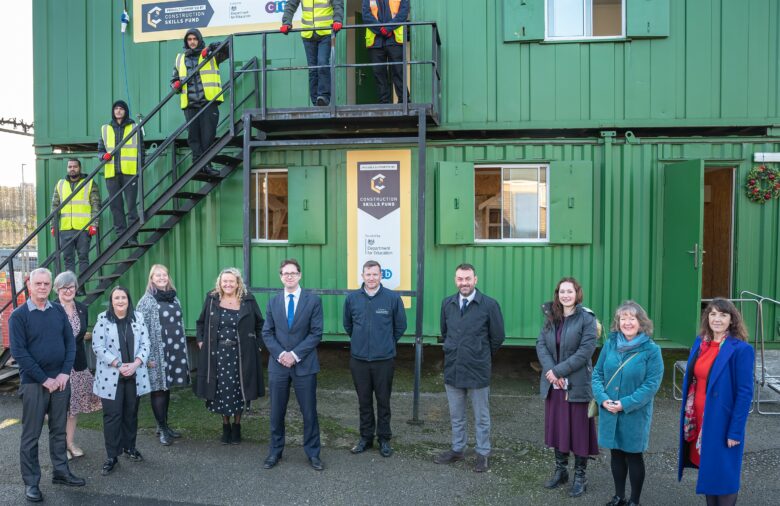 Graham Rothwell – (Rothwell Plumbing Services) commented:
'We were pleased to share with the Minister for Skills the positive relationship RPS has enjoyed with Procure Plus and its partners for well over 10 years. Our partnership is not limited to delivering excellent quality retrofit/refurb works but also embeds real and meaningful social value which benefits local communities as well as RPS and our workforce.'
Mike Brogan Chief Executive for Procure Plus added
'It was great to see this training initiative recognised with a visit from Alex Burghart, he has now seen first hand how a facility like The Cube can deliver on the training needs for the construction sector'.